Romantic Telegram Service
Email is boring
In an age where texts, video chat and email are dominant communication tools it can be a challenge to stand out and communicate a level of romance and sincerity. You don't want to be just another name in and inbox or text alert on a phone. You want to do something new and unique.
Thinking forward by looking back
Often the best way to introduce something new and romantic is to look backward;  back to a time before email, text, video chat and instant everything.  It's the same thinking that motivates people to take a horse drawn carriage ride through downtown Manhattan. It's not practical, quick or cheap. But it is very ROMANTIC.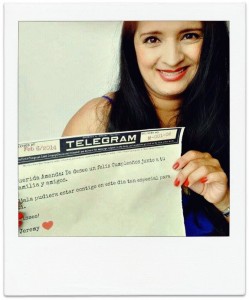 This thinking of harkening back to a bygone era to add a little romantic flavor is what motivated the creation of our Telegram service.  Before the telephone dots and dashes would fly along copper wires delivering a message at significant distance. It was  the only way people could communicate in a timely fashion.
Romantic Telegram Service
Our romantic telegram service seeks to achieve this level of uniqueness and romance by taking your message and presenting it as a telegram to the lady of your choice and delivering it directly to her.  It's a great way to stand out from the crowd and demonstrate yourself as someone that knows how to define romance.
See our Gift Collection
Our strong ties with local Colombian communities allow us to deliver personal and unique gifts to your special girl in Colombia.